about
Vivien K. Burt M.D., Ph.D.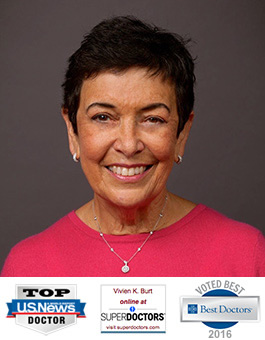 Vivien Burt, M.D., Ph.D is a psychiatrist practicing in Westwood and Long Beach California. She has more than 20 years of experience in adult and reproductive psychiatry. She is a Professor of Psychiatry in the Department of Psychiatry and Biobehavioral Sciences at the David Geffen School of Medicine at UCLA, and Founder and Director of The Women's Life Center of the Resnick UCLA Neuropsychiatric Hospital.
Dr. Burt has authored numerous articles and book chapters in the field of women's psychiatry and has lectured both nationally and internationally on the subjects of mood disorders and women's mental health and has provided expert testimony in the area of women's mental health. She is the first author of The Clinical Manual for Women's Mental Health, published by the American Psychiatric Press.
Dr. Burt has been honored by the Southern California Psychiatric Society with both a Distinguished Service Award and an Outstanding Achievement Award. A recipient of the Outstanding House Staff Teaching Award from the UCLA Neuropsychiatric Institute, she has devoted her career to training residents and interns in reproductive psychiatry. In 2008, in recognition of her work in women's mental health, she was awarded the Andre Boivin Professorship of the Motherisk Program of The Hospital for Sick Children in Toronto, Canada. She has been recognized by her peers as one of The Best Doctors in America (a validated, peer-reviewed database for excellence in medicine) for 2009-10, 2010-11 and 2014-16.
Her activities include projects in women's mental health with a particular focus on psychiatric illnesses associated with reproductive transitions.